Sign-up for our digital mailing list
DIVERSITY, EQUITY AND INCLUSION STATEMENT OF The Gala Pride and Diversity Center (GPDC)
In working with and for lesbian, gay, bisexual, transgender, non-binary, queer, Indigenous identities, and similarly identified (LGBTQ+) communities in San Luis Obispo County, The Gala Pride and Diversity Center (GPDC) commits to proactively working in solidarity against white supremacy, settler-colonialism, xenophobia, ableism, capitalist exploitation, religious bigotry, and all forms of cisheteropatriarchy.
TO READ OUR FULL DEI STATEMENT, SELECT YOUR PREFERRED LANGUAGE BUTTON FROM THE SELECTION BELOW: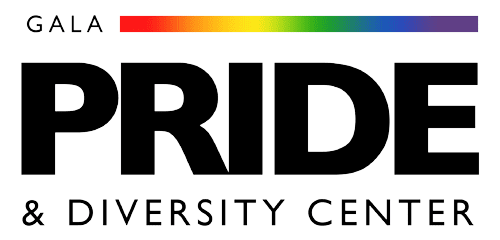 "THE GALA PRIDE AND DIVERSITY CENTER SUPPORT AND EMPOWER PEOPLE OF ALL SEXUAL ORIENTATIONS, GENDER IDENTITIES, AND EXPRESSIONS TO STRENGTHEN AND UNITE OUR CENTRAL COAST COMMUNITY."
This is our brand mission.
It is the mantra that we live by and guides everything that we do. If our activities and attitudes contribute towards this, then we are doing the right thing.
We have designed this specifically to connect with our community and partners who will share in our collective vision and the impact it will have.
Be Bold. Be You.
Values
These are our core 3 values, the underlining pillars that help us ensure we are on track to achieve our mission. They connect us with our community and drive us in this movement.
Authentic Boldness
We are unique, brave, innovative, creative, courageous and beautiful. We each have a strong sense of purpose, an array of talents, and passion for creating a better world. We are a resilient people who are authentic and unafraid to boldly and rightfully exist.
Community Empowerment
We value the socially transformative impact of our collective efforts and talents. By working together, fostering open communication, furthering understanding, and building caring and supportive environments, we empower the entire community with the power of our PRIDE.
Intersectional Justice
We believe that the diversity of our community is one of its greatest strengths, yet deep disparities exist –especially for those who sit at the intersection of marginalized identities. We believe we cannot fight one form of oppression without fighting all forms of oppression. We are committed to expanding access, equity, and inclusion in sustainable ways.
+ Monthly Support Meetings
+ Community Members Serviced Monthly
Select each link below to view important information about the Gala Pride and Diversity Center.
Transparency is paramount for any non-profit organization.

Introducing:
The Gala Pride and Diversity Center Staff
Dusty Colyer-Worth
He/him/his
Executive Director | Since August 2022.
Dusty was born and raised in SLO County, and after a seven-year stint in San Diego for school and shenanigans, returned to the area in 2008. With a passion for building connections, he has made his career in marketing and community relations, currently with the San Luis Obispo Chamber of Commerce as the Director of Engagement & Inclusion.
Always with an eye on making the San Luis Obispo area more welcoming and inclusive, Dusty has served on the City of SLO's DEI Task Force and Human Relations Commission, as well as committee work for The Pride Center. Dusty is tremendously excited and honored to serve on the Pride Center Board and looks forward to the organization continuing its phenomenal work for the greater LGBTQ+ community.
Proudly polyamorous with his husband of 10 years and their partner of 6 years, Dusty is an adventurous foodie and well-known cocktail aficionado and crafter. His household is completed by their four feline overlords: Luna, Arya, Nymeria, and Albus.
Serrin Ruggles
They/them
Director of Operations | Since December 2020
California born and raised, Serrin is a non-binary, bisexual, polyamorous firebrand who, when faced with picking their gender and sexual identity, decided to go with "yes". They grew up in San Luis Obispo, though a piece of their heart is still in Santa Cruz, where they earned a degree in Biochemistry & Molecular Biology. Their professional background is in laboratory science, but they've been moonlighting as a volunteer and event organizer with the Gala Pride and Diversity Center and other local LGBTQ+ groups since 2016. They are a passionate educator and have developed and taught a wide range of LGBTQ+, kinky, and sex positive classes for groups seeking either personal or professional development. 
Serrin is committed to an intersectional understanding of the needs of LGBTQ+ communities and inclusive dialogues in advocacy efforts. They are particularly interested in the rich (and often forgotten) LGBTQ+ histories across different cultures, eras, and communities. They are dedicated to furthering the cause of education, outreach, and support, and they look forward to being a positive, supportive member of the local LGBTQ+ community.
Lola White-Sanborn
She/Her/Hers
Content Curator | Since January 2022
A SLO local since childhood, you may already know Lola. It's the hair. Everyone remembers the hair. This proud transfeminine lass was a regular contributor to the SLO New Times for over four years; using wit, empathy, and various collegiate connections to carve a niche for herself as writer of the now-defunct column Cougars and Mustangs. Coming out to the area at large in that weekly piece, she sought to use her platform to provide whatever resources she could find for at-risk individuals.
Lola's personal mission is to combat the stigma around difficult but necessary topics such as mental illness, sexuality, gender, and much more. By refusing to give the taboos power, she hopes to make it that much safer for those who come after her. Lola is a polyamorous, neurodivergent pagan. She is very excited to put her skills to use at the Gala Pride & Diversity Center, helping how she can to help who she can. She leaves here a thought from her literary hero, Rod Serling: "…Any ideology which fails to recognize the worth, the dignity, the rights of Man… is obsolete."
Rafael Ovalle García
He/him/el
Administrative Assistant | Since October 2022
Rafael was born and raised in Mazatlán, México and moved to the SLO area with his husband and dog in 2021. In December 2021, he graduated from Instituto Tecnológico y de Estudios de Occidente (ITESO) with a bachelor's degree in marketing. He describes himself as an outdoor person, and spending time at the beach and catching the sunset are two of his life's great pleasures. As a matter of fact, the access to areas like Big Sur and Montaña de Oro, and the diversity of wineries where he can go and do wine tasting is what he likes the best about SLO County.
With his passion for family and love, Rafael will spend his free time creating memories with his chosen family or relatives, and cooking is his ideal way of representing his love. His preferred method of stress relief is dancing while listing to music, which most of the time he picks the genre based on his mood. Proudly Mexican, Rafael constantly encourages the Hispanic community to embrace their sexuality and gender identity, and to be comfortable in their own skin.

Gala Pride and Diversity Center
Elissa DeHart
Vice-President
They/Them
Elissa is a Mexican-American, queer, neurodivergent, elder millenial. They grew up in the Inland Empire of California, and in their adolescence quickly fell in love with life on the coast. Elissa works in retail management where they bring their creativity and passion for team building & shared success. Fueled by Elissa's interest in mental health, body-liberation, and fostering community, they co-facilitate F*ck Eating Disorders, a pro-recovery group for LGBTQIA+ folks with disordered eating.
Elissa enjoys live music of any genre, journaling (on paper and online) and painting, and spending time with their husband, kids, and animals.
George Seibert
Treasurer
He/Him
George is a proud Filipino American who emigrated to New York City at the age of 8 years old.  He attended and graduated from Rutgers University with a degree in History.
Currently, he is working as a senior project manager in the Global Talent Organization of a software tech firm based on the central coast of California.  This role offers him the opportunity to focus on his passion for Diversity, Inclusion, and Belonging initiatives for the firm and beyond.  George has 20+ years of experience as a business analyst and project manager across the insurance, financial, and tech industries.  He has been living in SLO county for the last 11 years.
George is the proud parent of two adult children.  One child is currently transitioning into a beautiful, courageous woman with a degree in anthropology from San Jose State.  His other child was recently married, owns a local catering business, and is an adoring mom to her 3-year-old pug.
George is in a 30+ year committed relationship with the love of his life, his wife, and his soulmate. He is a fierce ally of the LGBTQ+ community.  George enjoys walks on the beach, tasting wine at various wineries throughout the central coast, dancing, hiking, and exercising.
Ila Moncrief
Any Pronouns
Ila is a queer, non-binary Cal Poly student with LGBTQ+ Campus Life. Since fall 2020, they have been working with their campus center in collaboration with GALA. Chairing the 2021 Central Coast Pride committee was the highlight of their experience. Since then, community engagement, education, and visibility have become the focus of his work. They incorporate LGBTQ+ issues into their studies as a Political Science major and minor in City and Regional Planning. Her enduring love for cities inspires her advocacy for equitable access to resources and urban space. 
You'll likely find Ila perusing our local [comic]bookstores, or otherwise, rollerblading with fellow skaters and thrifting with their roommates.
Jorge Jimenez
He/Him/ They/Them
Jorge Jimenez has lived on the Central Coast for over 10 years and loves every minute of it.
He lives in the fast lane and never slows down; when he is not at work, he is working on filming, photography, coding, attending events, hosting events, and more. 
After returning to help with his high school GSA, Jorge Jimenez has been involved with The Gala Pride and Diversity Center for several years and was particularly involved with the body positive projects including the All Gender Fashion Show and the billboard on Highway 101.
"I cannot wait to get to work making the world a better place for my family, my LGBTQIA+ Family." 
Doug J. Heumann
Past-President
He/Him/His
Douglas J. Heumann is a graduate of the Santa Barbara College of Law and a member of the Estate Planning, Trust & Probate Sections of the State Bar of California and San Luis Obispo (SLO) County Bar Associations, as well as, a member of the National Lesbian, Gay, Bisexual and Transgender (LGBT) Bar Association. Mr. Heumann's practice includes estate planning, probate, conservatorships and LGBT rights.
Mr. Heumann has volunteered with various statewide and local organizations, including the Transgender Law Center's Leadership Council, Tranz Central Coast Steering Committee, SLO County ACLU, the Growing Together Initiative, and worked with PECG to remove the transgender exclusions from all Cal PERS health care coverage. Presently, he serves as  a Governing Board Member of Twin Cities Community Hospital. 
Rusty Cook
He/Him/His
Rusty has seen the changes in the LGBT+ community over the last several decades and looks forward to the continued growth in the community. 
Rusty came from a time when being LGBT+ was illegal and thought he would never live to see Marriage Equality, but he has. He is so excited about what the future holds for us as a community and as individuals and he looks forward to being a part of the change.
Molly Swan
She/her/hers
Molly is one of the newest members of our board! 
Board Positions are Filled!
The Gala Pride & Diversity Center Board of Directors support and help guide our mission to support and empower people of all sexual orientations, gender identities, and expressions to strengthen and unite our Central Coast community. Our board members are involved in exciting changes and improvements including Diversity, Equity, and Inclusion work, fundraising, event planning, governance and policy-making, and potential expansion of services and programs.
We are not currently accepting board member applications, but you can subscribe to our newsletter to keep up to date on volunteer opportunities! 

William Tomasini Scholarship
William Tomasini
Former President
Established in early 2014, The William Tomasini Scholarship honors business and community leader and former GALA President William Tomasini.
The scholarship is designed to help empower promising LGBTQ students to achieve their full academic and leadership potential, despite the many obstacles ahead, and to make a significant and positive impact on their community.
Students who have demonstrated leadership, with a strong record of academic excellence, volunteerism and achievement, and like William, bring beauty into their LGBTQ community, will be considered for this scholarship.
If you wish to contribute to this scholarship fund, please CLICK HERE. 
If you are a youth looking to apply please download the application HERE. *Note: Applications are not currently being accepted.
If you have any questions please contact us with the subject "Tomasini Scholarship"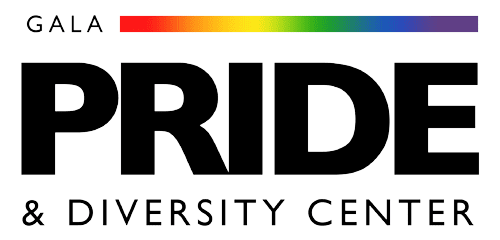 Gala Pride & Diversity Center welcomes all individuals regardless of ethnicity, ability, gender identity, sexual orientation and age. Stop by the Center for a cup of tea and a fabulous chat!
1060 Palm Street | San Luis Obispo, CA 93401
This error message is only visible to WordPress admins
There has been a problem with your Instagram Feed.
Provisional statement: The Gala Pride and Diversity Center is located on the land of the yak tityu tityu yak tiłhini – Northern Chumash Tribe of San Luis Obispo County and Region. We are aware that this land was taken from indigenous peoples violently, unceded - without agreement, consideration, or compensation.  We are committed to including local indigenous history in our training and we set the intention of relationship with and support of local indigenous peoples.   Additionally, we acknowledge our responsibility to protect the natural environment.