Sign-up for our digital mailing list
DIVERSITY, EQUITY AND INCLUSION STATEMENT OF The Gala Pride and Diversity Center (GPDC)
In working with and for lesbian, gay, bisexual, transgender, non-binary, queer, Indigenous identities, and similarly identified (LGBTQ+) communities in San Luis Obispo County, The Gala Pride and Diversity Center (GPDC) commits to proactively working in solidarity against white supremacy, settler-colonialism, xenophobia, ableism, capitalist exploitation, religious bigotry, and all forms of cisheteropatriarchy.
TO READ OUR FULL DEI STATEMENT, SELECT YOUR PREFERRED LANGUAGE BUTTON FROM THE SELECTION BELOW: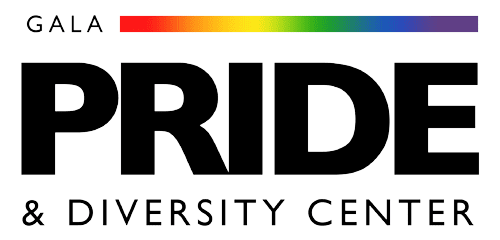 "THE GALA PRIDE AND DIVERSITY CENTER SUPPORT AND EMPOWER PEOPLE OF ALL SEXUAL ORIENTATIONS, GENDER IDENTITIES, AND EXPRESSIONS TO STRENGTHEN AND UNITE OUR CENTRAL COAST COMMUNITY."
This is our brand mission.
It is the mantra that we live by and guides everything that we do. If our activities and attitudes contribute towards this, then we are doing the right thing.
We have designed this specifically to connect with our community and partners who will share in our collective vision and the impact it will have.
Be Bold. Be You.
Values
These are our core 3 values, the underlining pillars that help us ensure we are on track to achieve our mission. They connect us with our community and drive us in this movement.
Authentic Boldness
We are unique, brave, innovative, creative, courageous and beautiful. We each have a strong sense of purpose, an array of talents, and passion for creating a better world. We are a resilient people who are authentic and unafraid to boldly and rightfully exist.
Community Empowerment
We value the socially transformative impact of our collective efforts and talents. By working together, fostering open communication, furthering understanding, and building caring and supportive environments, we empower the entire community with the power of our PRIDE.
Intersectional Justice
We believe that the diversity of our community is one of its greatest strengths, yet deep disparities exist –especially for those who sit at the intersection of marginalized identities. We believe we cannot fight one form of oppression without fighting all forms of oppression. We are committed to expanding access, equity, and inclusion in sustainable ways.
+ Monthly Support Meetings
+ Community Members Serviced Monthly
Select each link below to view important information about the Gala Pride and Diversity Center.
Transparency is paramount for any non-profit organization.

Introducing:
The Gala Pride and Diversity Center Staff
Dusty Colyer-Worth
He/him/his
Executive Director | Since August 2022.
Dusty was born and raised in SLO County, and after a seven-year stint in San Diego for school and shenanigans, returned to the area in 2008. With a passion for building connections, he has made his career in marketing and community relations, currently with the San Luis Obispo Chamber of Commerce as the Director of Engagement & Inclusion.
Always with an eye on making the San Luis Obispo area more welcoming and inclusive, Dusty has served on the City of SLO's DEI Task Force and Human Relations Commission, as well as committee work for The Pride Center. Dusty is tremendously excited and honored to serve on the Pride Center Board and looks forward to the organization continuing its phenomenal work for the greater LGBTQ+ community.
Proudly polyamorous with his husband of 10 years and their partner of 6 years, Dusty is an adventurous foodie and well-known cocktail aficionado and crafter. His household is completed by their four feline overlords: Luna, Arya, Nymeria, and Albus.
Serrin Ruggles
They/them
Director of Operations | Since December 2020
California born and raised, Serrin is a non-binary, bisexual, polyamorous firebrand who, when faced with picking their gender and sexual identity, decided to go with "yes". They grew up in San Luis Obispo, though a piece of their heart is still in Santa Cruz, where they earned a degree in Biochemistry & Molecular Biology. Their professional background is in laboratory science, but they've been moonlighting as a volunteer and event organizer with the Gala Pride and Diversity Center and other local LGBTQ+ groups since 2016. They are a passionate educator and have developed and taught a wide range of LGBTQ+, kinky, and sex positive classes for groups seeking either personal or professional development. 
Serrin is committed to an intersectional understanding of the needs of LGBTQ+ communities and inclusive dialogues in advocacy efforts. They are particularly interested in the rich (and often forgotten) LGBTQ+ histories across different cultures, eras, and communities. They are dedicated to furthering the cause of education, outreach, and support, and they look forward to being a positive, supportive member of the local LGBTQ+ community.
Lola White-Sanborn
She/Her/Hers
Content Curator | Since January 2022
A SLO local since childhood, you may already know Lola. It's the hair. Everyone remembers the hair. This proud transfeminine lass was a regular contributor to the SLO New Times for over four years; using wit, empathy, and various collegiate connections to carve a niche for herself as writer of the now-defunct column Cougars and Mustangs. Coming out to the area at large in that weekly piece, she sought to use her platform to provide whatever resources she could find for at-risk individuals.
Lola's personal mission is to combat the stigma around difficult but necessary topics such as mental illness, sexuality, gender, and much more. By refusing to give the taboos power, she hopes to make it that much safer for those who come after her. Lola is a polyamorous, neurodivergent pagan. She is very excited to put her skills to use at the Gala Pride & Diversity Center, helping how she can to help who she can. She leaves here a thought from her literary hero, Rod Serling: "…Any ideology which fails to recognize the worth, the dignity, the rights of Man… is obsolete."
Rafael Ovalle García
He/him/el
Administrative Assistant | Since October 2022
Rafael was born and raised in Mazatlán, México and moved to the SLO area with his husband and dog in 2021. In December 2021, he graduated from Instituto Tecnológico y de Estudios de Occidente (ITESO) with a bachelor's degree in marketing. He describes himself as an outdoor person, and spending time at the beach and catching the sunset are two of his life's great pleasures. As a matter of fact, the access to areas like Big Sur and Montaña de Oro, and the diversity of wineries where he can go and do wine tasting is what he likes the best about SLO County.
With his passion for family and love, Rafael will spend his free time creating memories with his chosen family or relatives, and cooking is his ideal way of representing his love. His preferred method of stress relief is dancing while listing to music, which most of the time he picks the genre based on his mood. Proudly Mexican, Rafael constantly encourages the Hispanic community to embrace their sexuality and gender identity, and to be comfortable in their own skin.

Gala Pride and Diversity Center
Elissa DeHart
President
They/Them
Elissa is a Mexican-American, queer, neurodivergent, elder millenial. They grew up in the Inland Empire of California, and in their adolescence quickly fell in love with life on the coast. Elissa works in retail management where they bring their creativity and passion for team building & shared success. Fueled by Elissa's interest in mental health, body-liberation, and fostering community, they co-founded F*ck Eating Disorders, a pro-recovery group for LGBTQIA+ folks with disordered eating.
Elissa enjoys live music of any genre, journaling (on paper and online) and painting, and spending time with their husband, kids, and animals.
Aja Milne
Vice-President
She/Her
Aja has been a SLO county resident for more than 30 years. She attended Atascadero high school, Cuesta College, and graduated from Cal Poly with a degree in history and a teaching credential.
Aja is a single mom, coparenting 3 incredible kids in the north county - alongside 2 cats and her 17 year old dog Ginobili. Aja has worked in public service for almost 20 years with California State Parks. She is the event coordinator for Hearst Castle and all our beautiful state parks in the SLO Coast District.
Aja's boundless love for her community and kids fuels her passion for activism. She has so much to learn and so much to give and cannot wait to see you all out there!
George Seibert
Treasurer
He/Him
George is a proud Filipino American who emigrated to New York City at the age of 8 years old.  He attended and graduated from Rutgers University with a degree in History.
Currently, he is working as a senior project manager in the Global Talent Organization of a software tech firm based on the central coast of California.  This role offers him the opportunity to focus on his passion for Diversity, Inclusion, and Belonging initiatives for the firm and beyond.  George has 20+ years of experience as a business analyst and project manager across the insurance, financial, and tech industries.  He has been living in SLO county for the last 11 years.
George is the proud parent of two adult children.  One child is currently transitioning into a beautiful, courageous woman with a degree in anthropology from San Jose State.  His other child was recently married, owns a local catering business, and is an adoring mom to her 3-year-old pug.
George is in a 30+ year committed relationship with the love of his life, his wife, and his soulmate. He is a fierce ally of the LGBTQ+ community.  George enjoys walks on the beach, tasting wine at various wineries throughout the central coast, dancing, hiking, and exercising.
Kimberli Andridge
Secretary
She/Her/They/Them
Kimberli spent their childhood and early adult years living all over the United States, settling in SLO in 2014. A Psychologist by training, she has devoted their career to community advocacy, activism, and providing affirming mental health services to LGBTQIA+ clients. Kimberli is passionate about looking at diversity, equity, and inclusion from an intersectional framework  and is actively involved in various local and national committees, including serving on SLO Behavioral Health DEI committee, co-chairing the LGBTQIA+ subcommittee of the SLO County Suicide Prevention Council, and co-chairing the Gender Affirming Treatment Team at Cal Poly Campus Health and Wellbeing. Kimberli is thrilled to have the opportunity to continue to serve the local community via the GPDC Board of Directors!
On a personal note, Kim is a queer, genderfluid, polyamorous, kinky community member who spends their spare time playing board games, gardening, attending concerts, watching horror films, and meaningfully connecting with their chosen family and kiddo!
Julia Thompson
Officer At-Large
She/Her
Julia is a queer mother of 2 really funny kids who grew up on the Central Coast. She lives with her adorable enby partner, kids, and a cat with bunny legs and no tail in a very messy but happy house. She graduated from Cal State Northridge with a BA in Deaf Studies and a minor in Queer Studies. After working as an American Sign Language Interpreter locally for 5 years, Covid-19 steered Julia is a very different path. She now works for the non-profit CASA, advocating for foster youth in the court system. Julia leads the program serving teens and young adults, and has a passion for working through the unique challenges of this age range. 
Julia cares deeply about recentering intersectional experiences as an ongoing action, rather than a "one and done" plan. She values education reform, providing opportunities for expression and growth, and lifting the voices of those she serves, not speaking over them. 
Fr Ian Delinger
He/Him/His
The Rev Ian Delinger (goes by Father Ian - he/him/his) is the Rector (senior priest) at St Stephen's Episcopal Church in San Luis Obispo. A native of the Central Coast, Fr Ian also grew up in western Nebraska, traveling to-and-from California for most of his childhood. After college, he worked in the Silicon Valley for almost a decade before heading to Cambridge, UK for seminary. Fr Ian was ordained into the Church of England and served in and just outside of Manchester for 11 years before moving back to the Central Coast. Fr Ian enjoys the food and drink culture of the Central Coast, and he produces a monthly radio segment on KCBX called "Playing With Food". 
Ila Moncrief
Any Pronouns
Ila is a queer, non-binary Cal Poly student with LGBTQ+ Campus Life. Since fall 2020, they have been working with their campus center in collaboration with GALA. Chairing the 2021 Central Coast Pride committee was the highlight of their experience. Since then, community engagement, education, and visibility have become the focus of his work. They incorporate LGBTQ+ issues into their studies as a Political Science major and minor in City and Regional Planning. Her enduring love for cities inspires her advocacy for equitable access to resources and urban space. 
You'll likely find Ila perusing our local [comic]bookstores, or otherwise, rollerblading with fellow skaters and thrifting with their roommates.
Gray Gautereaux
They/Them
Gray Gautereaux grew up in Gardnerville, Nevada, a small desert town that fostered their sense of self, love of the outdoors, and inclination towards local community. As an out and proud bisexual teenager, Gray saw that many of their peers did not have access to supportive safe spaces and that the public education system was not providing equitable health resources for LGBTQ+ students. In response, Gray founded their high school's first ever Sexuality and Gender Acceptance Club.
While studying politics, economics, and history at Willamette University, Gray remained a fierce advocate for their communities. For their work, Gray was honored three times by the National AIDS Memorial Grove as a Pedro Zamora Young Leader. They were also awarded the title "2019 Champion of Pride" by the LA Advocate. 
In 2021, Gray moved to San Luis Obispo to complete a one-year AmeriCorps service term. Their work included collaborating with local governments and non-profits to encourage resilience, energy efficiency, and sustainability across the region. While hard at work, they fell in love with the natural beauty, rich history, and vibrant community that SLO has to offer. They are excited and optimistic about the opportunity to continue uplifting their community as a Board Member for the Pride & Diversity Center.
Michael Pennon
He/Him
Michael is a dedicated husband of 10 years and father of three beautiful children (10, 8 and 6). He values family above all else and is committed to being a supportive and loving partner and parent. Michael enjoys being active in his community and has always been committed to supporting and improving the lives of those around him. He and his family moved to SLO County, Atascadero in 2020.
Michael has a unique perspective on the intersections of race, sexuality, family and community here on the Central Coast. His experiences have shaped his values and driven him to work towards creating more inclusive and accepting environments for all members of the LGBTQ+ community. He believes in lifelong learning, visibility and holding space.
In his free time, Michael enjoys gardening and exploring the great outdoors with his family, getting his creative juices flowing with art or landscaping projects or immersing himself in new worlds and ideas as an avid fan of Sci-fi. 
Willow Kawamoto
She/Her/Maybe Yours
Willow is an Asian Pre-Op Transgender Lesbian, Neurodivergent Gen Xer and very proud of it. Born in Tokyo, Japan and raised in Rockville, MD. She has spent most of her life pre-transition being an ally to the LGTBQ community in Washington D.C., Virginia and Maryland areas. She moved to California over ten years ago landing in Orange County and then has been living and working in Morro Bay. 
She is an ardent supporter and activist for Asian visibility and Transgender rights. She works as a volunteer with the organization FreeMomHugs to ensure that every person knows that they are loved and supported and hugged. When she is not working, she is a culinary expert with Central Coast Foodies demonstrating that a good meal can be done within budget and still be healthy. She is a writer, a musician, a chef. The decision to join GALA was not an easy one, but one that will come with the opportunity to be a voice for several communities that do not have a voice, to be a vote for the communities that does not have one, and to be a face that needs to represent what it means to be everything and everyone. 
Personal Belief: "I do not believe in Faking it till I Make it because I am a Hack. I refuse to fake anything. Hacks know a little about everything and because of that they look for the details that most people overlook and turn that into an opportunity. Because where there is an opportunity, there is Hope."
Personal Quotes: "Hack it till you can Back it", "Be Kind", "Buckle up, Let's Fly", and finally, "I bid you an open feast."
Molly Swan
She/her/hers
Molly is one of the newest members of our board! 
Board Positions are Filled!
The Gala Pride & Diversity Center Board of Directors support and help guide our mission to support and empower people of all sexual orientations, gender identities, and expressions to strengthen and unite our Central Coast community. Our board members are involved in exciting changes and improvements including Diversity, Equity, and Inclusion work, fundraising, event planning, governance and policy-making, and potential expansion of services and programs.
We are not currently accepting board member applications, but you can subscribe to our newsletter to keep up to date on volunteer opportunities! 

William Tomasini Scholarship
William Tomasini
Former President
Established in early 2014, The William Tomasini Scholarship honors business and community leader and former GALA President William Tomasini.
The scholarship is designed to help empower promising LGBTQ students to achieve their full academic and leadership potential, despite the many obstacles ahead, and to make a significant and positive impact on their community.
Students who have demonstrated leadership, with a strong record of academic excellence, volunteerism and achievement, and like William, bring beauty into their LGBTQ community, will be considered for this scholarship.
If you wish to contribute to this scholarship fund, please CLICK HERE. 
If you are a youth looking to apply please download the application HERE. *Note: Applications are not currently being accepted.
If you have any questions please contact us with the subject "Tomasini Scholarship"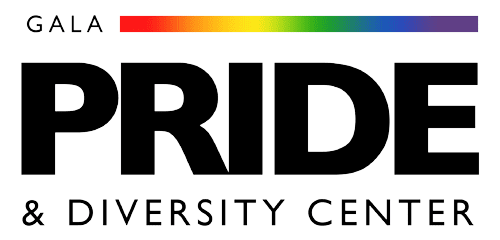 Gala Pride & Diversity Center welcomes all individuals regardless of ethnicity, ability, gender identity, sexual orientation and age. Stop by the Center for a cup of tea and a fabulous chat!
1060 Palm Street | San Luis Obispo, CA 93401
Provisional statement: The Gala Pride and Diversity Center is located on the land of the yak tityu tityu yak tiłhini – Northern Chumash Tribe of San Luis Obispo County and Region. We are aware that this land was taken from indigenous peoples violently, unceded - without agreement, consideration, or compensation.  We are committed to including local indigenous history in our training and we set the intention of relationship with and support of local indigenous peoples.   Additionally, we acknowledge our responsibility to protect the natural environment.