• Gala Pride and Diversity Center Board Meeting | Third Tuesday of Each Month.
• Art After Dark | First Friday of Each Month (at the Gala Pride and Diversity Center).
What's Going On Week of 9-26-22
Good morning from the Gala Pride and Diversity Center! 
¡Buenos días desde el Centro de Orgullo y Diversidad Gala! 
Our October News & Reviews are coming soon!
Tuesday, September 27th
6pm-8pm Trans Teen Peer Support Group is meeting in-person at the Gala Pride & Diversity Center. This group is a safe place for trans* and gender non-conforming people, as well as those questioning. The group is for youth for 6th grade through 12th grade. This is a facilitated emotional support group.  It is a safe place to be heard, to share your story, and to hear stories that may sound surprisingly like your own. Members enjoy doing art projects. Contact youthdirector@galacc.org or tranzcentralcoast@gmail.com for details.
7pm-9pm In-Person Trans* Tuesday meets weekly in-person at the Gala Pride & Diversity Center. Trans* Tuesday provides a safe space providing peer to peer support for trans, gender non-conforming, non-binary, and questioning people. First timers are welcome! Contact tranzcentralcoast@gmail.com for more information.
Note: Virtual Trans Tuesday is on Hiatus for the rest of the month as the lead facilitator recovers from surgery.
Wednesday, September 28th 
6:30pm-8pm, the Awakening Ways Pride & Diversity Belonging Circles meets for the first time, at 7350 El Camino Real, Atascadero! This will be a monthly open house style gathering for the Central Coast LGBTQ+ Community. At this social gathering we will introduce Awakening Ways to those who are seeking a Spiritual Community that truly embraces all expressions of life. Inspiring people to experience their Oneness with the Divine, we teach Practical Spirituality that helps the seeker find their own sacred path. Learn more about it at https://awakeningways.org/
7pm-8:30pm Free Trans Voice Therapy Group meets via Zoom. These are no-cost voice coaching workshops! These voice training sessions offered by Joshua Russel, SLP are free of charge and open to any trans, nonbinary, or gender non-conforming people in our community. Drop us a note at Joshuarussellslp@gmail.com to get the meeting info!
7pm Pandora's Pizza Party at Benny's Pizza Palace meets every Wednesday! Feelin' saucy? Your slice of life needing a good topping? Every Wednesday at 7PM at Benny's Pizza Palace, you can join Pandora's Pizza Party, a safe social gathering for LGBTQ+ folks to enjoy their 'Za in good company. You can visit Benny's Pizza Palace & Social Club at 1601 Monterey St, San Luis Obispo!
Thursday, September 29th
5pm - 7pm, we are hosting a Clothing Exchange for LGBTQ+ Youth aged 11-18 here at the Gala Pride and Diversity Center! Finding clothes that are affirming, comfortable and affordable is a powerful part of any teen experience, but especially for LGBTQ+ teens. We'll have free clothes, drawings for gift cards to local shops and alterations stations and workshops. All totally free and open to local youth. Are you a caring adult/ business owner and want to support? We're looking for donations for gift card purchases, lightly used clothing, and volunteers who can alter clothes to help offer alterations/ teach basic skills. Questions or want to get involved? Email youthdirector@galacc.org!
5pm - 6:30pm, the Central Coast Coalition for Inclusive Schools (CCC4IS) will host a Social! "We will be all introducing ourselves to each other, hearing about the history of CCC4iS and what has already been done, talking about current areas of need, and discussing how this organization can move forward with new focus." THIS EVENT IS OPEN TO THE PUBLIC! With everything going on right now, this is going to be a very important meeting for helping people address what needs addressing! The meeting link is here, and if needed, the Meeting ID is 826 7248 8330 and the passcode is WeBelong.
6pm-8pm Q Youth meets in-person and outdoors at the Gala Pride & Diversity Center. This is a social support group for LGBTQ+ and questioning youth from 6th grade through 12th grade! Contact youthdirector@galacc.org for more information. 
Friday, September 30th
All day, Transitions Mental Health Association is hosting a Multi-County Suicide Prevention Summit. This is a fantastic opportunity to get to join other advocates in mental health, connect with statewide resources, and hear inspiring words from speakers who are passionate about suicide prevention. Fresno, San Luis Obispo, Kern, Tulare, Kings, and Marin Counties are coming together to close out Suicide Prevention Month with a day full of learning. You can find lots of information at the event page here!
Saturday, October 1st
5:30pm-7pm Rainbow Dungeons & Dragons Intersectional LGBTQ-friendly Dungeons & Dragons group for tabletop roleplaying fun at the Gala Pride & Diversity Center! Create a character to adventure within a fantasy setting along with a group of other players. Battle monsters, work with your party members, solve mysteries and riddles, collect gold and valuables, and make your mark on the world for good or for evil or for something in between. This game is beginner-friendly with lots of assistance for new players learning the game system. Specs:  D&D 5E, homebrew planet and setting, story and character building heavy. Please contact the GM at  rowanwaters1@gmail.com for more information and introduction to the group.
Sunday, October 2nd
7pm-8pm Sunday Evening Rap (LGBTQ+ AA Group) meets on Zoom. For the Zoom link and password to this LGBTQ+ affirming Alcoholics Anonymous group, please email aarapgroup@gmail.com and someone will send it along.
Coming Up & Other News
October 7th and 8th, 7:00 pm, SLO Tease presents Tease or Treat at the South Bay Community Center in Los Osos! SLO Tease is ready to thrill you, chill you, and fulfill you with fun, sexy, stunning neo-burlesque performances! You'll enjoy blockbuster drinks by the amazing Highwater SLO, with all bar proceeds going to local charities GALA Pride and Diversity Center, and The Lumina Alliance! So brush your fangs and fur, pick out a fancy outfit or sexy costume, and join us for a howling good time at SLO Tease Tease or Treat! 21+ only, NO EXCEPTIONS! Get tickets here!
October 8th, from 7pm to 9pm, the Third Annual Stories Matter meets at Bang the Drum Brewery! It's the 3rd annual Stories Matter in collaboration with The Reboot Storytelling ReImagined -- an incredible evening of live storytelling featuring local and visiting storytellers of all ages and experience levels. Stay tuned for the line-up! This year's theme is . . . and The Beat Goes On: True, personal stories about carrying on, marching to the beat of your own drummer, deadbeats, downbeats, heart-skipped-a-beat moments, beating around the bush, and beating the odds. You can get tickets here!
October 11, Broad Street Grinder will partner with the Gala Pride and Diversity Center for National Coming Out Day, and Broad Street Grinder will donate 20% of their proceeds to us! The shop will be open until 7pm.
October 15th, at Mission Plaza in Downtown SLO, Lumina Alliance will host the First Annual Fun Run & Festival to Celebrate Community! Individual and team registration is available on CelebrateCommunitySLO.org. After racers finish the mile-long course ending at the beautiful Mission Plaza, racers will enjoy a Maker's Market, DJ, silent disco, raffle prizes, and family-friendly activities. Gather your friends and family to participate in the fun run together! As a team, you can raise money for Lumina's mission to create a safe, thriving, and equitable community. Teams are encouraged to set a goal of $100 per person. Dress up in matching costumes or colors and your team could bring home a prize! More details can be found on the event website.
October 30th, at 6pm and 9pm, SLOQueerdos is finally back with a production of the Rocky Horror Picture Show at SLO Brew! Give yourself over to absolute pleasure and get tickets at Slobrew.com/events.
The Non-Binary* Discussion Group is ON HIATUS and LOOKING FOR FACILITATORS! This group will meet both virtually and in-person at the Gala Pride & Diversity Center! This group is open to anyone who falls under the nonbinary umbrella, including genderqueer, genderfluid, agender, demigender people, or gender nonconforming, gender questioning, or transgender folks. We are hoping to get this group back up and running again, and apologize to anyone affected by its current reshuffling. You can contact us at email@galacc.org for more information
Our Therapist-Led Trans* Support Group is looking for participants. Any person identifying as trans* or genderqueer is welcome to join this therapist-led group. The group therapist will facilitate group goals, which might include increasing safety, self-acceptance, validation of trauma, and skills for authentic and integrated living. The group will start meeting when there are enough interested people to form a cohort. Contact laurenphelpsmft@gmail.com to register and learn more!
Please consider Monthly Giving to the Pride Center! Skippers Brew LGBTQ+ affirming coffee shop at 1242 Monterey St, SLO is offering a 20% discount to regular Pride Center donors, SLO Provisions will give you 10% as will Central Coast Comedy Theater, SLO Botanical Garden and SLO Public House. Suncoast Insurance will donate $10 whenever you get a quote from them!
Central Coast Pride is a committee of the Gala Pride and Diversity center and LGBTQ Campus Life (PRIDE) at Cal Poly which has hosted an annual series of events held across San Luis Obispo since 1997. This year Pride will be held virtually in correspondence with Slo County social distancing guidelines. Join us and many other members and allies of the LGBTQ+ community this may for a chance to partake in a variety of uplifting and entertaining events that build up our community. To Learn more about Pride and the events being hosted this year visit the Central Coast Pride website by clicking the title above.

Sign-up for our digital mailing list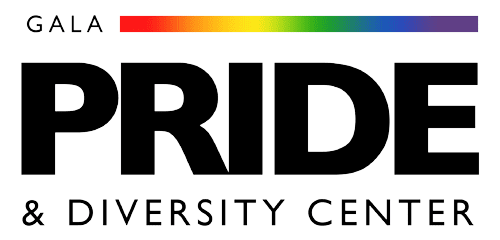 Gala Pride & Diversity Center welcomes all individuals regardless of ethnicity, ability, gender identity, sexual orientation and age. Stop by the Center for a cup of tea and a fabulous chat!
1060 Palm Street | San Luis Obispo, CA 93401
This error message is only visible to WordPress admins
There has been a problem with your Instagram Feed.
Provisional statement: The Gala Pride and Diversity Center is located on the land of the yak tityu tityu yak tiłhini – Northern Chumash Tribe of San Luis Obispo County and Region. We are aware that this land was taken from indigenous peoples violently, unceded - without agreement, consideration, or compensation.  We are committed to including local indigenous history in our training and we set the intention of relationship with and support of local indigenous peoples.   Additionally, we acknowledge our responsibility to protect the natural environment.