• Gala Pride and Diversity Center Board Meeting | Third Tuesday of Each Month.
• Art After Dark | First Friday of Each Month (at the Gala Pride and Diversity Center).
What's Going On Week of 11-28-22
Good morning from the Gala Pride and Diversity Center! 
¡Buenos días desde el Centro de Orgullo y Diversidad Gala! 
Monday, November 28th
6pm-7pm Non-Binary* Discussion Group meets virtually! This group is open to anyone who falls under the nonbinary umbrella, including genderqueer, genderfluid, agender, demigender people, or gender nonconforming, gender questioning, or transgender folks. You can join us at https://tinyurl.com/GalaNBGroup
Tuesday, November 29th
6pm-8pm Trans Teen Peer Support Group is meeting in-person at the Gala Pride & Diversity Center. This group is a safe place for trans* and gender non-conforming people, as well as those questioning. The group is for youth for 6th grade through 12th grade. This is a facilitated emotional support group.  It is a safe place to be heard, to share your story, and to hear stories that may sound surprisingly like your own. Members enjoy doing art projects. Contact youthdirector@galacc.org or tranzcentralcoast@gmail.com for details. NOW MEETING EVERY TUESDAY.
7pm-9pm In-Person Trans* Tuesday meets weekly in-person at the Gala Pride & Diversity Center. Trans* Tuesday provides a safe space providing peer to peer support for trans, gender non-conforming, non-binary, and questioning people. First timers are welcome! Contact tranzcentralcoast@gmail.com for more information.
1st and 3rd Wednesdays every month
7pm Pandora's Trivia at Benny's Pizza Palace meets @7pm the 1st and 3rd Wednesday of every month! Feelin' saucy? Your slice of life needing a good topping? You can join a safe social gathering for LGBTQ+ folks to enjoy their 'Za in good company. You can visit Benny's Pizza Palace & Social Club at 1601 Monterey St, San Luis Obispo!
Thursday, December 1st
6pm-8pm Q Youth meets in-person and outdoors at the Gala Pride & Diversity Center. This is a social support group for LGBTQ+ and questioning youth from 6th grade through 12th grade! Contact youthdirector@galacc.org for more information.
Saturday, December 3rd
5:30pm-7pm Rainbow Dungeons & Dragons Intersectional LGBTQ-friendly Dungeons & Dragons group for tabletop roleplaying fun at the Gala Pride & Diversity Center, now with TWO campaigns! These games are beginner-friendly with assistance for new players learning the system. Ages 18 or older, please. In the D&D 5E homebrew campaign, create a character to adventure within a fantasy setting along with a group of other players. Battle monsters, work with your party members, solve mysteries and riddles, collect gold and valuables, and make your mark on the world for good or for evil or for something in between. Please contact the GM at  rowanwaters1@gmail.com for more information and introduction to the group. The second campaign utilizes Dungeons & Dragons 5th edition. Players will start from the ground up with new, level one characters. While there will be plenty of opportunities for combat, campaigns will revolve around developing character stories and motivations. The setting is a homebrew world still recovering from a planet-wide catastrophe that occurred hundreds of years in the past, where communication among villages, cities, and kingdoms is limited and ancient ruins filled with mysterious technology dot the landscape. No experience necessary, and players new to either DnD or TTRPGs are welcome! Players will need to have the free Discord app to access game materials. Interested players should contact Steven Ruszczycky at steven.ruszczycky@gmail.com. 
Coming Up & Other News
Graduating high school and community college students in northern and central California can apply to www.equalityscholarship.org for a chance at $6,000 scholarships to recognize service to the LGBT+ community. Applications must be completed by January 31st, 2023.
We're looking for more board members! The Gala Pride & Diversity Center thrives on our volunteers and our board members help to steer the ship! We are looking for new board members for 2 year terms, beginning in January 2023.  Nominees will be joining an increasingly diverse Board of Directors who are involved in exciting changes and improvements including Diversity, Equity and Inclusion work, fundraising (no personal funds required), event planning, governance and policy making and potential expansion of services and programs. If you've been looking for a way to give back to the community, this is it! To apply, visit https://tinyurl.com/GalaBoard22, or us at email@galacc.org for more information!
Please consider Monthly Giving to the Pride Center! Skippers Brew LGBTQ+ affirming coffee shop at 1242 Monterey St, SLO is offering a 20% discount to regular Pride Center donors, SLO Provisions will give you 10% as will Central Coast Comedy Theater, SLO Botanical Garden and SLO Public House. Suncoast Insurance will donate $10 whenever you get a quote from them!
Central Coast Pride is a committee of the Gala Pride and Diversity center and LGBTQ Campus Life (PRIDE) at Cal Poly which has hosted an annual series of events held across San Luis Obispo since 1997. This year Pride will be held virtually in correspondence with Slo County social distancing guidelines. Join us and many other members and allies of the LGBTQ+ community this may for a chance to partake in a variety of uplifting and entertaining events that build up our community. To Learn more about Pride and the events being hosted this year visit the Central Coast Pride website by clicking the title above.

Sign-up for our digital mailing list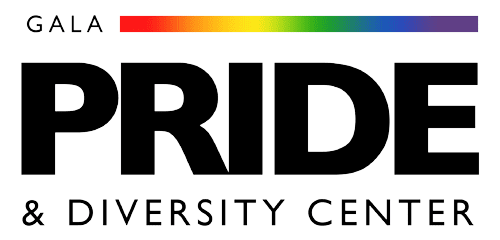 Gala Pride & Diversity Center welcomes all individuals regardless of ethnicity, ability, gender identity, sexual orientation and age. Stop by the Center for a cup of tea and a fabulous chat!
1060 Palm Street | San Luis Obispo, CA 93401
This error message is only visible to WordPress admins
Error: There is no connected account for the user 17841402981927385.
Provisional statement: The Gala Pride and Diversity Center is located on the land of the yak tityu tityu yak tiłhini – Northern Chumash Tribe of San Luis Obispo County and Region. We are aware that this land was taken from indigenous peoples violently, unceded - without agreement, consideration, or compensation.  We are committed to including local indigenous history in our training and we set the intention of relationship with and support of local indigenous peoples.   Additionally, we acknowledge our responsibility to protect the natural environment.