• Gala Pride and Diversity Center Board Meeting | Third Tuesday of Each Month.
• Art After Dark | First Friday of Each Month (at the Gala Pride and Diversity Center).
What's Going On Week of 8-08-22
Good morning from the Gala Pride and Diversity Center! 
¡Buenos días desde el Centro de Orgullo y Diversidad Gala! 
The Non-Binary* Discussion Group is ON HIATUS and LOOKING FOR FACILITATORS! This group will meet both virtually and in-person at the Gala Pride & Diversity Center! This group is open to anyone who falls under the nonbinary umbrella, including genderqueer, genderfluid, agender, demigender people, or gender nonconforming, gender questioning, or transgender folks. We are hoping to get this group back up and running again, and apologize to anyone affected by its current reshuffling. You can contact us at email@galacc.org for more information.
Be sure to read our July News & Reviews!
Monday, August 8th
7pm-9pm Walt Whitman Gay Men's Book Club meets both in-person at the Gala Pride & Diversity Center and virtually via Zoom. This club meets for a discussion of books. They read and study books chosen by the group which relate to their lives as gay men. All are welcome! Contact email@galacc.org for the link.
Tuesday, August 9th
6pm-8pm Trans Teen Peer Support Group is meeting in-person at the Gala Pride & Diversity Center. This group is a safe place for trans* and gender non-conforming people, as well as those questioning. The group is for youth for 6th grade through 12th grade. This is a facilitated emotional support group.  It is a safe place to be heard, to share your story, and to hear stories that may sound surprisingly like your own. Members enjoy doing art projects. Contact youthdirector@galacc.org or tranzcentralcoast@gmail.com for details.
Wednesday, August 10th 
7pm-8:30pm Free Trans Voice Therapy Group meets via Zoom. These are no-cost voice coaching workshops! These voice training sessions offered by Joshua Russel, SLP are free of charge and open to any trans, nonbinary, or gender non-conforming people in our community. Drop us a note at Joshuarussellslp@gmail.com get the meeting info!
7pm Pandora's Pizza Party at Benny's Pizza Palace meets every Wednesday! Feelin' saucy? Your slice of life needing a good topping? Every Wednesday at 7PM at Benny's Pizza Palace, you can join Pandora's Pizza Party, a safe social gathering for LGBTQ+ folks to enjoy their 'Za in good company. You can visit Benny's Pizza Palace & Social Club at 1601 Monterey St, San Luis Obispo!
Thursday, August 11th
6pm-8pm Q Youth meets in-person and outdoors at the Gala Pride & Diversity Center. This is a social support group for LGBTQ+ and questioning youth from 6th grade through 12th grade! Contact youthdirector@galacc.org for more information. 
Friday, August 12th
7pm-10pm Free-For-All Movie Night Free for All still does something movie related every month on Zoom. Sometimes we watch a streaming movie in advance and talk about it, sometimes we watch a movie together, sometimes we simply talk about what good things we might have seen recently. We aim for a really eclectic mix of films, from obscure old classics to the still unreleased, from dorky lesbian romance to action movies, from teens coming out to seniors losing it, and from all continents.  If you dis/liked this month's offering, you're sure to feel different about the next. All tastes welcome. Check us out on our Facebook group or join our mailing list!
Saturday, August 13th
August 13 from 6-8pm, the Trans* Young Adult Social Group has its INAUGURAL MEETING! A new social group for trans, nonbinary, gender nonconforming, and gender questioning folks ages 18-40! This group will meet on the 2nd Saturday of each month at a different location with different activities each time. To learn more and get on the mailing list, contact tranzcentralcoast@gmail.com.
Sunday, August 14th
7pm-8pm Sunday Evening Rap (LGBTQ+ AA Group) meets on Zoom. For the Zoom link and password to this LGBTQ+ affirming Alcoholics Anonymous group, please email aarapgroup@gmail.com and someone will send it along.
Coming Up & Other News
Wednesday, August 17th, from 2:00 - 3:30pm, our next Senior Social will meet! The Senior Social is a social support group for older LGBTQ+ adults looking for friends and community. Members are engaged in their communities and the group often hosts speakers and presenters, and sometimes (virtually) share a meal together. You can join the Zoom link here, passcode is GayIsGood
Sunday, August 21st, 1pm-4pm, our Q & Trans Youth group facilitators are putting on a YOUTH SPORTS DAY! This event is for LGBTQIA+ youth in middle and high school! There will be an array of sports and games to play including basketball, volleyball, baseball, soccer, lawn games, and some arts and crafts for those who want to be involved but don't necessarily want to play sports. Snacks and water will also be provided! All LGBTQIA+ youth are welcome, you don't have to be into sports to come. You can simply show up and hang out in a safe and welcoming environment!
Monday, August 22nd, from 6pm to 8pm, join us for an evening with family law attorney Gregory Gillet to learn more about the protections in place for LGBTQ+ people in California. California has strong anti-discrimination laws in place that would protect LGBTQ+ people and relationships, but many in our community still have questions from the recent overturning of Roe v. Wade and boast by Justice Clarence Thomas that landmark rulings for LGBTQ+ protections are next on the chopping block. Join us August 22nd, from 6pm to 8pm for an evening with family law attorney Gregory Gillett to learn more about what protections are in place, what measures we might take to protect ourselves and our families, and how to help our LGBTQ+ community in states without protections. This is a hybrid event that will be hosted in-person at the Gala Pride & Diversity Center, or people can join virtually via Zoom at https://tinyurl.com/2p9a5kcz
Thursday, August 25th, from 6-9pm, you can participate in Queer Trivia night at Bang the Drum! Think you've seen all the queer movies? Feel like you have a good knowledge of LGBTQIA+ history? Well now is your chance to prove it! Come have a beer, make new friends, and celebrate our community with Queer Trivia!  Big gay prizes will be awarded to the winning teams/individuals from Androgynous Fox, Ragtag Wine Co, and Bang the Drum Brewery! There will also be a raffle with additional chances to win, and a separate prize for the best team name! 100% of proceeds from Trivia and the raffle will go to the Central Coast Planned Parenthood. Register HERE!
Friday, August 26th, Gay Santa Barbara Presents the PRIDE KICKOFF PARTY, hosted by Backstage! Pride Weekend begins in Santa Barbara with an 8 PM Happy Hour, a 10 PM Show hosted by Vivian Storm, and an 11:30 PM Dance Party! Show guests, a mixture of local and visiting queer artists, includes: Vivian Storm, Angel D'Mon, Raquel Starr, Rossi, and more! Enjoy Jello shots and gogo dancers! The cover, which supports the queer artists, is $10 during a special limited presale and $20 at the door. A VIP table and bottle service is available, DM @gaysantabarbara on instagram for more details. https://www.eventbrite.com/e/santa-barbara-pride-kick-off-party-tickets-393427862327
Pacific Pride Festival is taking place Saturday, August 27 at Chase Palm Field in Santa Barbara. We'll share more information as we get it!
October 15th, at Mission Plaza in Downtown SLO, Lumina Alliance will host the First Annual Fun Run & Festival to Celebrate Community! Individual and team registration is available on CelebrateCommunitySLO.org. After racers finish the mile-long course ending at the beautiful Mission Plaza, racers will enjoy a Maker's Market, DJ, silent disco, raffle prizes, and family-friendly activities. Gather your friends and family to participate in the fun run together! As a team, you can raise money for Lumina's mission to create a safe, thriving, and equitable community. Teams are encouraged to set a goal of $100 per person. Dress up in matching costumes or colors and your team could bring home a prize! More details can be found on the event website.
CMC BOOK DRIVE!: The Gala Pride & Diversity Center is working to bring in more resources for transgender women living at the California Mens Colony, including a support group for incarcerated transgender women. To support us in our mission to bring support, community, and resources to transgender women at the California Men's Colony, please consider making a one time donation to the program or signing up for ongoing subscription donations on our website! We are also collecting books to donate to the CMC libraries. The library is a crucial resource for inmates, and is sometimes their only connection to the outside world. Books supporting transgender women and nonbinary people in their journey of exploration and transition can be life changing. You can check out our wishlist and donate books for the program here! We are hoping to collect at least two copies of each book so that both of the prison's libraries can have this representation. To learn more about the struggles of incarcerated transgender people and the impact programs like these can have,  read the story of one in our July News & Reviews!
Our Therapist-Led Trans* Support Group is looking for participants. Any person identifying as trans* or genderqueer is welcome to join this therapist-led group. The group therapist will facilitate group goals, which might include increasing safety, self-acceptance, validation of trauma, and skills for authentic and integrated living. The group will start meeting when there are enough interested people to form a cohort. Contact email@galacc.org to register and learn more!
Our Therapist Led IPV/SA Support Group is looking for participants. This therapist led support group provides a safe and supportive environment for LGBTQ+ survivors of intimate partner violence and sexual assault. Topics will vary from session to session, but may include developing resiliency, coping skills, and grounding techniques. This group will begin meeting virtually via Zoom when there are enough interested people to form a cohort. Contact jenileephd@gmail.com to register and learn more!
Please consider Monthly Giving to the Pride Center! Skippers Brew LGBTQ+ affirming coffee shop at 1242 Monterey St, SLO is offering a 20% discount to regular Pride Center donors, SLO Provisions will give you 10% as will Central Coast Comedy Theater, SLO Botanical Garden and SLO Public House. Suncoast Insurance will donate $10 whenever you get a quote from them!
Central Coast Pride is a committee of the Gala Pride and Diversity center and LGBTQ Campus Life (PRIDE) at Cal Poly which has hosted an annual series of events held across San Luis Obispo since 1997. This year Pride will be held virtually in correspondence with Slo County social distancing guidelines. Join us and many other members and allies of the LGBTQ+ community this may for a chance to partake in a variety of uplifting and entertaining events that build up our community. To Learn more about Pride and the events being hosted this year visit the Central Coast Pride website by clicking the title above.

Sign-up for our digital mailing list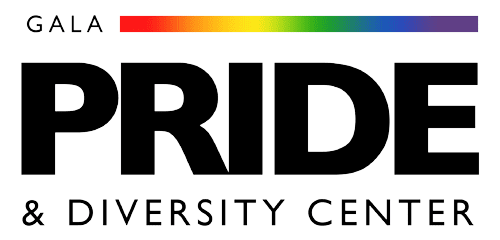 Gala Pride & Diversity Center welcomes all individuals regardless of ethnicity, ability, gender identity, sexual orientation and age. Stop by the Center for a cup of tea and a fabulous chat!
1060 Palm Street | San Luis Obispo, CA 93401
This error message is only visible to WordPress admins
There has been a problem with your Instagram Feed.
Provisional statement: The Gala Pride and Diversity Center is located on the land of the yak tityu tityu yak tiłhini – Northern Chumash Tribe of San Luis Obispo County and Region. We are aware that this land was taken from indigenous peoples violently, unceded - without agreement, consideration, or compensation.  We are committed to including local indigenous history in our training and we set the intention of relationship with and support of local indigenous peoples.   Additionally, we acknowledge our responsibility to protect the natural environment.